How to order your candies on bonbonrama.com in 5 steps
**
    1. Create your Account

***
To order on Bonbonrama.com, you must create an account, just click here : I want to create an account. It takes 1 minute. The most important information is your name, e-mail, phone number (preferably mobile so that the delivery person can contact you easily in case of an order) and the billing and delivery address. Once you are logged into your account, you can add the sweets to your cart and validate it. The minimum order amount is 75 euros excluding shipping costs. All your orders, quotes and invoices will be available for consultation from your account.
***
   

2. Orders over 350 €, 500 € or 1000 € * = Free shipping/span>
(except for poorly accessible areas)
***
Shipping costs are calculated according to the total weight of your order, the type of product (some very fragile products are only shipped on a pallet) and the place where the goods are received. The free transport is automatic from 350 € HT (or 500 € HT, for departments farther from our warehouse) of order but does not apply for the deliveries in zones considered as little accessible by the carriers (example: ski resorts, villages in altitudes or on an island). Indeed, our transport providers apply a high markup for these areas and we are therefore obliged to ask you a participation.
 * Depending on the country and distance from our warehouse. See the map below.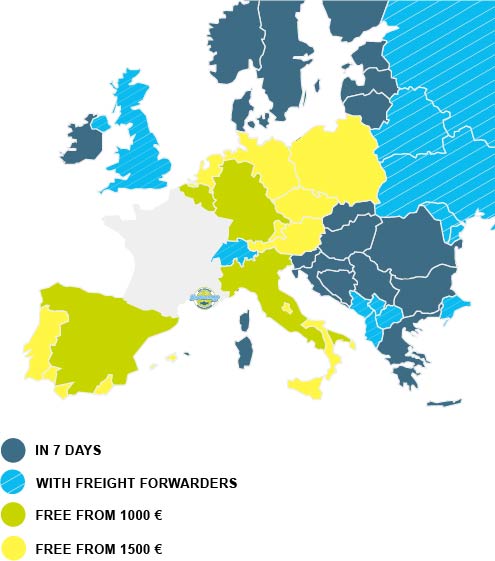 ***
***
***
**
3. Reactive customer service: contact@bonbonrama.com or by phone 04 69 96 63 36.

 
***
Our customer service is here to answer your questions and solve your problems related to the use of the site or to an order. Do not hesitate to call us at 04 69 96 63 36 from Monday to Friday, from 8h30 to 12h and from 14h to 17h.
If, upon delivery, you notice that the package is very damaged externally, please refuse to receive it, or at least open the package to check the condition of the confectionery. In any case, contact us if you need help or if you wish to declare a non-conforming delivery.

***
    

4. Secure browsing and payment



***
Our site is secure, as indicated by the symbol on the address bar of your browser.

Your personal details are therefore protected. For the payment, we use the services of specialized and very secure banking companies (Paypal and Payplug). Your bank details are never entered, and even less kept on our site.
***
***
    

5. Loyalty = Additional discounts



***
Bonbonrama rewards your loyalty. Your purchases generate points that simply become money to be used for future orders.
***
***
***
***