Bonbonrama.com, ships bulk quantities of candy products to Continental France (and Corsica), Belgium, Luxembourg, Spain, Portugal, Italy, Netherlands, Switzerland and Germany.
All orders placed after 8 :30 AM will be shipped the next day (except weekend and holidays).
There are no deliveries on the weekend. Shipping times are estimated in business days and from the moment of departure from our warehouse.
Shipping fees are free on orders over 350 € (ex. VAT) or 500 € (ex. VAT) *
* Varies with French departments. Check map located underneath.
Shipping fees are never free for all orders shipped to Corsica, Overseas France, remote areas, mountain areas, and ski resorts.
**
Different services are offered, depending on the overall weight of the order (with packaging), and their department of destination and/or location. In certain cases, we reserve the right to change the shipping provider (for example, we prefer palletizing certain large and or sensitive orders, in which case GLS would be replaced by KUEHNE NAGEL). In any case, you will be contacted and informed beforehand.
You can browse our whole selection of bulk candies here.

GLS is offered on all orders weighing between 0 to 60 kg (shipped into 1 to 3 boxes of 25 kg maximum each)
GLS FLEX DELIVERY service allows you to track and manage all aspects of the delivery, yourself. You will receive an alert 24h prior to scheduled delivery, you will then be allowed to modify the date and address of delivery. This service is only available for all orders delivered in France.
Shipping times vary from 1 to 3 business days. (depending on French department).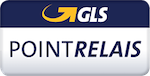 GLS is also our provider for all relay package deliveries. Shipping times vary from 1 to 3 business days. (depending on French department).
Partner network for relay package delivery is MONDIAL RELAY.

KUEHNE NAGEL is our carrier for all pallet deliveries
For all heavy orders (over 60 kg) or when a large and/or fragile item is ordered.
Those specific candy products are designated by the following icon :
Shipping times vary up to 5 business days for all deliveries taking place in France (expect slightly longer times for all UE country deliveries). Please do insure in advance that the destination address will accommodate the delivery of a pallet.
For Europe, ask for a quote for all orders over 60kg

For all pallet expeditions to Corsica, our carrier is ROCCA TRANSPORT. Shipping times are approximately varying between 4 to 7 business days. A 75€ flat fee will be applied to all pallet orders to Corsica
(500 kg maximum weight).
For all larger orders, please feel free to contact us for a quote.