SATURATION OF THE NETWORK IN ALL CARRIERS
Like all European carriers,

Kuehne Nagel, GLS and UPS

are facing an increase in the volume of goods to be transported never seen before.
In fact, consumer habits have changed significantly in recent months with the Covid-19 crisis and logisticians are making every effort to adapt their means of production to this development. However, some deliveries may take longer.
And whatever the carrier chosen, there will be chances of encountering the same difficulties, which are variable according to the departments or regions.
Even if we follow each shipment closely, do not hesitate to contact us quickly if you find that the time is particularly long. We will do our best to resolve the situation.
thank you for your understanding
***
Bonbonrama.com, expédie de la confiserie en gros et demi-gros à destination de la France Métropolitaine (et Corse) et depuis 2018, pour les pays suivant: Belgique, Luxembourg, Espagne, Portugal, Pays Bas et Allemagne.

Les commandes payées après 7h00 seront expédiées le lendemain (sauf weekend et jours fériés).
Les frais de livraison sont offerts à partir de 350 € HT* de commande

*

ou 500 € en fonction de l'éloignement de notre entrepôt. Voir carte des départements ci dessous.
Le transport n'est jamais offert pour la CORSE, les iles, les zones isolées, les zones montagneuses et les stations de ski
Plusieurs services sont proposés, en fonction du poids total de la commande (avec les emballages), et de leur département de destination. En cas de besoin ou d'imprévu, nous nous réservons le droit de changer de prestataire (par exemple, nous préférons mettre en mini-palette certaines commandes de bonbon volumineuses ou sensibles et dans ce cas, KUEHNE NAGEL remplace GLS). Dans tous les cas, vous serez contactés avant. Vous pouvez consulter l'ensemble de nos bonbons en gros ici.


GLS est proposé pour les commandes allant de 0 à 60 kg (expéditions en 1,2 ou 3 colis de 25 kg maximum)
Le service GLS FLEX DELIVERY vous permet de suivre et gérer la livraison vous même. Vous recevrez une alerte 24h avant le passage du livreur et vous pourrez modifier le jour ou l'adresse de livraison. Ce service n'est pas proposé pour les expéditions hors de France.

Les délais d'acheminement sont de 24 à 72h (selon départements).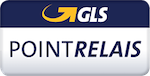 GLS est aussi notre prestataire pour les livraisons en relais colis. Les délais de transports sont de 24 à 72h (selon départements)
Le réseau des commerçants partenaires est celui de MONDIAL RELAY.

KUEHNE NAGEL est le prestataire pour les expéditions de palettes.
Ce transporteur achemine les commandes volumineuses (+ de 65 kg) ou quand au moins un article fragile est commandé.
Ces confiseries sont signalés par

Les délais de livraisons sont de 1 semaine max (un peu plus pour les pays C.E). Attention, veuillez vous assurer que le transporteur aura de la place pour déposer la palette.
Pour l'Europe, demander un devis pour toute commande supérieure à 60 kg.

Pour les Expéditions de Palette vers la CORSE, nous sollicitons ROCCA TRANSPORT. Le temps de transport est approximativement de 4 à 7 jours. Une participation forfaitaire de 100 euros est demandée pour l'expédition d'une palette (Poids Max 600 kg).
Pour de plus gros volumes, prendre contact avec nous pour établir un devis.